Enjoyment for senses
---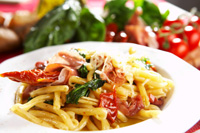 Culinary delights transform your day into a celebration. Our kitchen offers numerous experiences for a fine palate. Traditional South Tyrolean specialities meet with Mediterranean finesse. A great variety arises.

A culinary meeting of North and South, which is even more exquisite if experienced with a glass of wine.
Restaurants in Riffian and Kuens
---
Restaurant Hilberkeller

Kuenser Street 23

Cucina tradizionale sudtirolese La nostra cucina casalinga offre specialità tipiche sudtirolesi in un ambiente armonico. Cibi integrali dai nostri agricoltori biologici, grigliate di carne allo spiedo, gustosi piatti della regione segnano il nostro marchio. Per completare il Vostro pasto Vi consigliamo un buon vino proveniente dai vigneti del Sudtirolo. Il nostro Hilberkeller si adatta particolarmente a feste di compleanno, ricorrenze, matrimoni e occasioni speciali per gruppi fino a 70 persone. Saremmo lieti di ospitarVi! Alexandra e Christian

Web: www.hilberkeller.eu
Phone: 0473 24 00 51
E-mail: kontakt@hilberkeller.eu
Fax:
---
Kiosk Finele

I-39010 Riffian Kirchweg 17

Wir verwöhnen Sie gerne mit einem kühlen Bier vom Fass und kleinen Imbissen, während Sie sich in unserem schattigen Garten ausruhen können! jeden Tag von 9,30-22,00 Uhr

Web: www.tannerhof.it
Phone: 0473 14 11 78
E-mail: info@tannerhof.it
Fax: 0473 14 11 78
---
Oberwirtskeller

I-39010 Riffian Kirchweg 17

Weinstube - Gartenlaube - Törggelekeller Das Abendlokal in Riffian. Geöffnet ab 17 Uhr Donnerstag Ruhetag

Web: www.oberwirtshof.com
Phone: 0473 24 10 11
E-mail: info@oberwirtshof.com
Fax: 0473 24 13 95
---
Obisell Alm

Almhütte auf 2160 m ü.d.M

Almhütte auf 2160 m ü.d.M
geöffnet von Anfang Juni bis Ende Oktober. Schlafgelegenheit (Lager) für 20 pers.

Web:
Phone: 0473 24 10 76
E-mail:
Fax:
---
Gasthof Brunner

I-39010 Riffian, Vernuer 13

Am Meraner Höhenweg Ost auf 1100 m über dem Meeresspiegel gelegen,
idealer Ausgangspunkt für Bergwanderungen und Touren im Naturpark Texelgruppe, gutbürgerliche Küche.

Web:
Phone: 0473 24 10 36
E-mail: gasthaus-brunner@rolmail.net
Fax:
---
Recommended
Riffian

Hotel Zirmerhof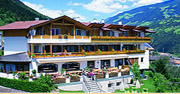 Sagenhafte Sonnentage,
Ihre Urlaubstage im Wander- und Aktivhotel Zirmerhof in Riffian.
Today

3°/ 18°

Tomorrow

3°/ 17°

Monday

3°/ 19°

How to reach us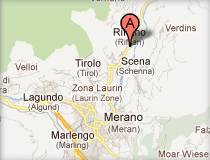 Advertisements